(and other transport related companies).
You may have heard a lot in the news recently about Twitter, a social media tool that is endorsed by celebrities and business people alike. It has certainly set the world's imagination alight!
Twitter can make a difference to your business, 25% of our weekly enquiries for courier work come through twitter every week. Some we can do and some we can't. We are in the fortunate position that we can pick and choose what work we take from it.
We are @Essex_courier and @freight_rescue on twitter, go and take a look at our updates. We chat about many thing as well as work, and have advised other courier and transport companies how to get the most from twitter. The book has an introduction from fellow twitter users, again small businesses that make the most of it to their own advantage. Now you can too.
The Twitter for Couriers guide is an excellent addition to the Complete Courier Guide and the Growing your Customers Ebook.
The book is aimed at couriers and transport companies, although in theory the lessons could be applied to any business looking to use twitter as part of their social media strategy.
Enjoy!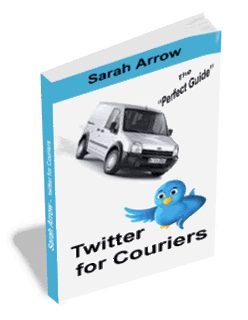 (if you like it, you can press the orange buy button in the top right hand corner. Possibly the best fiver any courier has ever spent…)